Watching the nutcracker inspired me to make a pancake tutu, no not a very tasty tutu but one of those tutus that stick out instead of looking like a pouf-y skirt.
When I looked online I saw several tutorials that required tutu wire, or using a wire underneath the skirt. Looking around made me realize that tutu wires were a little bit heavy and might bring the skirt down instead of making it stick out. Maybe I just need to find a thinner wire that will hold it's shape and not make the tutu heavier. Or another option might be to add more tulle to give it more volume.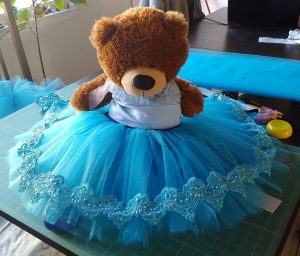 I used the help of my trusty model to wear the sample I made for my niece just to test out my theory on how to make this pancake tutu, it fit her very nice especially with the lace around it.
I stumbled a bit by just measuring it at 25″ because I thought that would be enough to make it stretchy enough so I can put an elastic in the band and cinch it down to 21″ and still have it tight and stretchy enough.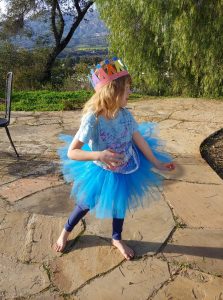 One thing I found out was that it was just big enough to fit around her waist but the elastic did not really do anything but hold the skirt and band together.
She enjoyed wearing it for her birthday and it held up as I thought it would but I think I will add more tulle so it would have more pouf. As for the elastic band I decided to just make it like I would a regular elastic skirt.
So I measured and doubled her waist to 50, stitched the tulle onto it and inserted an elastic that measures 23. Hopefully this time it will work.
I will post more pictures as soon as I am done.