Preparation
So this will be our very first craft fair and I'm a little bit anxious and excited at the same time.
We have one more weekend before the event and I think we are mostly stocked up on the  scarves we are going to sell. I have my mom making half of the inventory and it was a little stressful at first because we do not see each other that often and I'm little miss perfectionist when it comes to how I want things to be. Quality control comes to mind when I think about it in a business perspective.
I bought the yarn online and had them delivered so I could eliminate going to the store and bringing them to her. I gave her the pattern and as all crocheters can tell you each pattern can look different for each crocheter. Some people can crochet tight and others can crochet loosely.
We finally sorted that out and everything is a go. We have transformed most of the yarn that we brought into scarves. We still have a few sitting around waiting to be finished but that may just have to be for the website if it doesn't make it to the fair.
Suggestions
It helps when you have a creative family.
My brother John suggested that we make a small postcard that shows how you can wear the scarves. I will yet have to get a model for that (any volunteers?), so instead I made a a postcard showing the different looks I made with my own model, I call her Tyra.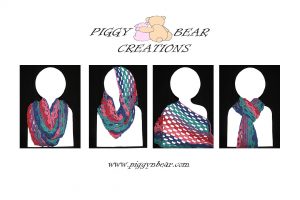 Mary his wife suggested we make baby  or kid versions of the scarves too, so they can be mom and me scarves, so now we are offering that too. I just hope I can take pictures in time for the Christmas Boutique.
The Display
I set up a mock display today and had John and my mom over for brainstorming. I think we came to a unanimous decision on what the display should look like,  which was nice because sometimes it's hard to come up with something when you feel the pressure of doing this for the first time.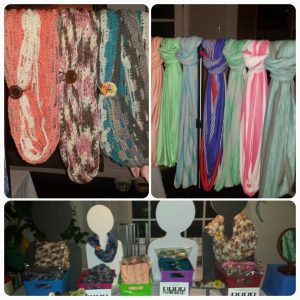 If you have time, join us at the Christmas Boutique at Immaculate Conception school in Monrovia happening this Saturday 11/04/2017 from 11am to 7pm.